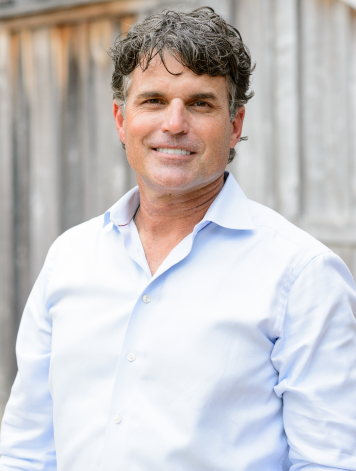 Dr. Frank Sullivan
General Dentist — St. Francisville, LA
Dr. Frank Sullivan is a graduate and four-year scholarship football player at the University of Mississippi. He graduated from Louisiana State University School of Dentistry in 1997. Dr. Sullivan designed and built Sullivan Dental Center in 1999. The vision for his practice resembled a spa-like atmosphere with a touch of the outdoors that felt more like a home than a dental office. Dr. Frank knew early in his career that he wanted to do more, and education was the key. He started at the Nash Institute in 2005. Here he was provided the latest techniques and quality education in cosmetic dentistry.
In 2006 to 2007, he learned the Lumineers Technique and was the first dentist in Louisiana to offer this service to patients. Dr. Frank, being a life-long learner and forward thinker, took a course in 2007 in Reno, Nevada. This course focused heavily on sleep and how that translates into a healthy body. At this point, he realized that dentists have the power to change more than just a patient's teeth, they have the capability to change the placement of one's bite to improve breathing, sleeping, alleviate pain in the neck, improve posture, as well as create cosmetic changes such as fuller lips and facial symmetry.
Dr. Sullivan started his journey with the Las Vegas Institute for Advanced Dental Studies Global (LVI). He spent over four hundred hours focused in the area of neuromuscular dentistry. In 2013, he earned a fellowship for neuromuscular dentistry. This education, along with his studies in sleep apnea have opened the door to many services that Dr. Sullivan now provides.
Dr. Sullivan specializes in cosmetic dentistry, TMJ therapy and orthodontics. He has created award-winning smiles and received three international awards in this field. He offers full-face orthodontics, which combines all the areas he has spent time focusing on over the years. Full-face orthodontics focuses on the airway, the placement of the teeth and the muscles of the face. Dr. Sullivan is dedicated to continuing his education in order to offer his patients the best dental care available. He does not want to just be good at crowns & bridges, dental implants and porcelain veneers, Dr. Sullivan wants more! He is dedicated to changing the lives of his patients by eliminating debilitating symptoms such as headaches, jaw pain and neck pain. Dr. Sullivan is very proud of the practice that he has built.
Memberships & Associations
He is currently active in membership in these associations:
Member of the American Academy of Cosmetic Dentistry
Member of the American Dental Association®
Member of the American Academy of Sleep Medicine
Member of the American Academy of Dental Sleep Medicine
Member of the Louisiana Dental Association
Member of the Chicago Dental Society
Member of the Academy of General Dentistry
Member of the Greater Baton Rouge Dental Association
Completed Total Esthetics's course at the Nash Institute for Dental Learning in North Carolina
Member of the International Association of Orthodontics
Member of the International Association of Physiologic Aesthetics
Member of the American Academy of Implant Dentistry
Member of the American Academy of Cosmetic Dentistry
Certified in ALS (Advanced Life Support)
LVI Courses Attended By Dr. Frank Sullivan
Creating The Outstanding Physiologic Practice
Oct 23, 2019
Core IV – Mastering All The Principles of Phase One
Sep 25, 2019
Mastering The BioPAK Training Session
Dec 16, 2017
Controlled Arch Orthodontics and Case Finishing
Dec 08, 2017
Orofacial Myofunctional Disorders (OMD) and Myofunctional Therapy
Dec 05, 2017
Practical Advanced TMD Practice- Level 1
Sep 13, 2016
Oct 29, 2013
Surgery 2- Implant Integration: Multi-Site Techniques and Advanced Grafting Options
Apr 17, 2015
Physiologic Orthodontics
Nov 05, 2014
Surgery 1- Implant Foundation: Extractions, Grafting, Guided Surgery & Key Implant Restorative Fundamentals
Sep 19, 2014
The Physiologic Approach to Treating OSA – Level II
Mar 22, 2014
The Physiologic Approach to Treating OSA – Level I
Mar 18, 2014
Practical Advanced TMD Practice- Level 2
Nov 01, 2013
Core VII – Full Mouth Reconstruction – Essential Tools for Finalization of Physiologic Rehabilitation
May 31, 2013
Digital Diagnostic Basic Training
Jan 15, 2013
Core VI – Coronoplasty and Case Finishing
Nov 09, 2012
Core V – Comprehensive Aesthetic Occlusal Reconstruction
Oct 05, 2012
Core IV – Advanced Principles, Case Stabilization and Bite Transfer in the Physiologic Practice
Aug 15, 2012
Core III – Mastering Dynamic Adhesion in Complex Reconstructive Cases
Jun 07, 2012
Core II Orthotic Maintenance, Adjustment and Essential Aesthetic Reconstructive Techniques
Feb 17, 2012
Core I – Advanced Functional Physiologic Dentistry
Dec 09, 2011